Foresight Future of Cities
The Foresight project visited Manchester to learn more about…
What will Greater Manchester look like in 2065? Seriously, think about it.
There is no avoiding the fact that Manchester didn't miraculously re-emerge from the post-industrial doldrums by sheer fortune. Everything about the city-region as it is today; its ambience, its infrastructure, the distinct juxtaposition of original and modern architecture, has all been underpinned by a conscious effort to strategically determine its purpose in the 21st Century.
If Manchester is to effectively build on its present strengths over the next 50 years or so (and also tackle its weaknesses), we need to be pragmatic in considering what that future might look like. The Greater Manchester strategyis already dealing with the medium-term. Yet we should also be on our guard for those long-term drivers of change. Our cities are set to be at the forefront of economic growth and with so much potential, national government is particularly interested in metro-level developments. Through the Government Office for Science, it is currently leading on a nationwide Foresight project aptly titled the 'Future of Cities'. So with this level of interest, how exactly can we prepare for those longer-term challenges?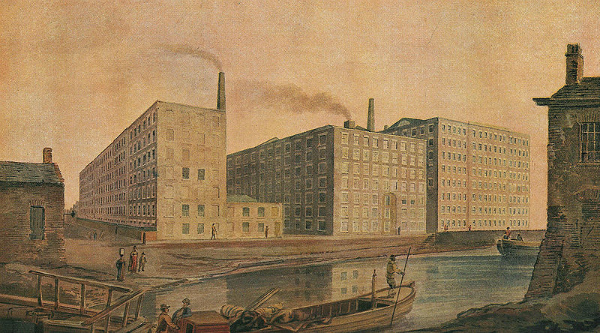 Of course we can start by learning from the past. Greater Manchester's journey of transformation from 'Cottonopolis' – the endearing nickname it earned on the back of its leading role in 19th Century global cotton production – to its presently growing status as a world leader in advanced materials research (just one example of its wider potential at this very point in time) began with the tough decisions brought about by post-industrial decline. In other words, challenge brought opportunity.
Greater Manchester today is recognised for its strengths in governance, its newly devolved powers, and an economy that has demonstrated resilience against the recent economic downturn. Our strategy runs to 2020 and we are working hard to deliver it. But the Government Office of Science project has invited us to look longer term:
Have we seriously considered the scenarios and complications that might arise?
How is climate change going to impact on the city's priorities in the long-term?
What if automation displaces more than the large share of routine jobs that are already threatened?
Of course some of these issues are specific to Manchester while others will be of interest to all participating cities.
To consider such questions and explore the possibilities of Greater Manchester's economic future, New Economy has been working jointly with the University of Manchester's Institute of Innovation and Research to produce a report that will feed into the national Future of Cities project. It has tasked Greater Manchester's researchers, analysts and policy makers with much of the aforementioned; looking into the opportunities and challenges that UK cities will face over the next 50 years.
In response to the task we recently coordinated a 'Manchester 2040+' workshop attended by an impressive mixture of public, private, community and voluntary sector representatives. The workshop offered a structured platform for creative thinking and collaboration across the policy areas of:
environment
planning and housing
transport and infrastructure
business and economy
social responsibilities
All matters that are essential in achieving a thriving, prosperous and socially inclusive city.
The workshop has already accelerated the discussions that will determine the best way for creating a 'success scenario' for the conurbation. It has also generated 2 specific projects that will be led by New Economy, looking into issues around both ageing and low pay.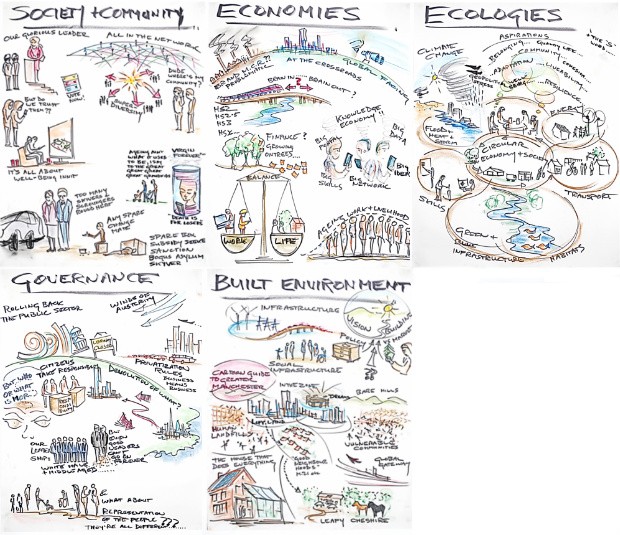 Given its very nature, this project will be a continual, evolving piece of work and it will be used to frequently inform policy and decision makers across Greater Manchester. The next stage of the project is for the Government Office of Science to produce a Greater Manchester report based on the findings of the workshop in early 2015. This will then be used to inform a university-led 'Futures Forum' scheduled for March, which will look at collective issues that are forecast across the participating regions. As the project evolves, we're keen to hear your views to help articulate how Greater Manchester can survive and prosper in a range of possible scenarios.
Manchester Stakeholder Meeting Summary
Sheppard Robson, City Tower, Piccadilly Plaza
15.30 – 17.30, 28 January 2014
Attendees
Sir Mark Walport Chief Scientific Adviser to HM Government
Prof Rachel Cooper OBE Future of Cities Lead Expert and Co-Director, ImaginationLancaster, Lancaster University
Prof Nick Dunn Urban Design, ImaginationLancaster, Lancaster University
Prof Jim Chapman Emeritus Professor, Manchester School of Architecture
Prof Luke Georghiou Manchester University
Dr Joe Ravetz School of Environment, Education and Development, University of Manchester
Michael Daw Business Development Manager, Manchester Metropolitan University
Dr Jon Lamonte CEO, Transport for Greater Manchester
Mike Emmerich CEO, New Economy Manchester
Dave Carter Head, Manchester Digital Development Agency
Nick Merriman Director, Manchester Museum
Steve Connor CEO, Creative Concern
Prof Tom Jefferies Head, Manchester School of Architecture
James Jones Director, Sheppard Robson
Sandy Thomas Head, Foresight
Eleri Jones Project Leader, Foresight Future of Cities
Athlyn Cathcart-Keays Rapporteur
The meeting aimed to explore the challenges and opportunities faced by Manchester at present and over the coming decades, how the city interacts with the rest of the UK, and how people will live in cities in the future. The meeting also sought to understand how the Future of Cities Project could be of use to local decision makers, and where there might be opportunity for collaboration.
MW introduced the Government Office for Science, welcomed attendees and asked for introductions, stating the importance of these meetings in engaging people in cities across the UK. RC introduced the Foresight Future of Cities project, indicating the current progress and next stages. RC outlined the working paper titles and stressed the importance of building working relationships and partnerships with people in different research areas in order to make the project a success.
MW asked attendees to consider the following key questions:
• What are the challenges and opportunities for Manchester over the coming decades?
• How does Manchester interact with other cities (notably London)?
• How can this project be useful for you, and how can you help the project if you choose to do so?
General support was given for the aims of the project, and attendees noted that it was important to clarify whether the discussion was about 'the City of Manchester' or 'Greater Manchester'. The discussion that followed focused on Greater Manchester.
Discussion
Attendees described diversity and density as the inevitable results of rapid urbanisation, and highlighted the importance of ensuring that policy decisions do not lead to fragmentation. The need to link different organisations effectively was deemed important, as social, environmental and economic problems are interrelated and should be tackled in conjunction with one another.
The group noted that the university system in Manchester is crucial to its success, but that it failed to retain its graduates. This was attributed to a lack of 'high level functioning jobs' in Manchester, therefore students are leaving to take up graduate jobs in other cities (especially London). They expressed a strong desire to address this, as well as the issue of elderly people moving out of the city to more rural locations. Here they noted that there needed to be some sort of incentive to remain, making the city an environment where people want to live.
Attendees thought that the people who will live in Manchester in 2065 would be somewhat determined by the role chosen for the city and how divisions of labour develop. The BBC, universities and health care system were seen as pull factors, and MW asked the attendees to think about the role of the manufacturing industry. They said that while on-shoring is becoming a reality, Manchester's days as a manufacturing hub are over. They considered the service economy to be an asset (particularly in the health sector), generating increased economic activity within a growing population.
While Manchester has seen growth that has benefitted the majority, there is still a portion of the population that remains economically inactive – a 'tale of two cities'. Despite years of effort, this group of the city's population has generally remained in the same situation. Attendees expressed a strong desire to change this, but admitted that the city had yet to find a solution.
The attendees also discussed Manchester's role in stimulating the region, and doing for the North West what London has done for the South East. In addition, the appropriate housing stock (especially innovative multi-generational housing) must be built to deal with future demographic changes.
MW asked attendees to think about which cities are viewed as comparable to Manchester (outside the UK). Amsterdam, Stockholm, Barcelona, Toronto and Melbourne were all mentioned, especially in terms of technological advances. The idea of experimenting with different ways of urban living (not yet existing in the UK) was proposed, and the group agreed that there is a certain element of risk that needs to be taken in order to move forward with new urban models (like Hulme).
The great cultural scene of the city was recognised, and attendees agreed that Manchester has grasped design as 'brandable'. While marketing this culture is important to Manchester's success, it was also noted that it should allow the unplanned – for example the indie music scene – which employs a large number of people in small scale businesses. However, the city's 'cultural capital' is not accessed by/accessible for everyone, and there are many people to whom this cultural success does not reach out.
In terms of infrastructure, attendees agreed that HS2 will play a big role in the future form of Manchester, strengthening the entire region and increasing mobility. It will be important to create transport links around HS2 that will benefit the wider area, stimulating not just the core, and allowing both people and information to travel. The group considered telecommunication to be as important as transportation, leading to a 'smart city' and a 'super-region'.
All agreed that Manchester is a resilient city in terms of flooding and water shortages (thanks to the shipping canal), and MW asked how Manchester would cope with possible increased migration to the area as a result of this resilience. The group addressed the topic of spatial planning, and the vast amount of green space between Manchester and Liverpool was mentioned as an important space which could be used for other purposes.
Generally, there was support for a rebalancing between London and the rest of the UK, and all agreed that the project should encourage the creation of 'centres of excellence' in places other than the South East. One suggestion was to hold local workshops on the future of Manchester, presenting possible scenarios and asking, 'what if?' questions.
MW concluded the meeting, emphasising that the Foresight team is keen on working with stakeholders in Manchester, but only if it is of use to the group and the city as a whole. The group is interested in developing some sort of partnership, and further discussions will follow.
Address:

Manchester

GPS:

53.4807593,-2.2426305000000184